Seit ein paar Monaten ist die neue Ausgabe des Entwurfsmusterbuchs verfügbar. Dies ist meine Übersetzung des Klassikers "Design Patterns" von Erich Gamma et al. aus dem Amerikanischen. Mit der neuen Ausgabe kommen einige Neuerungen und Änderungen. An erster Stelle zu nennen wäre der neue Umschlag: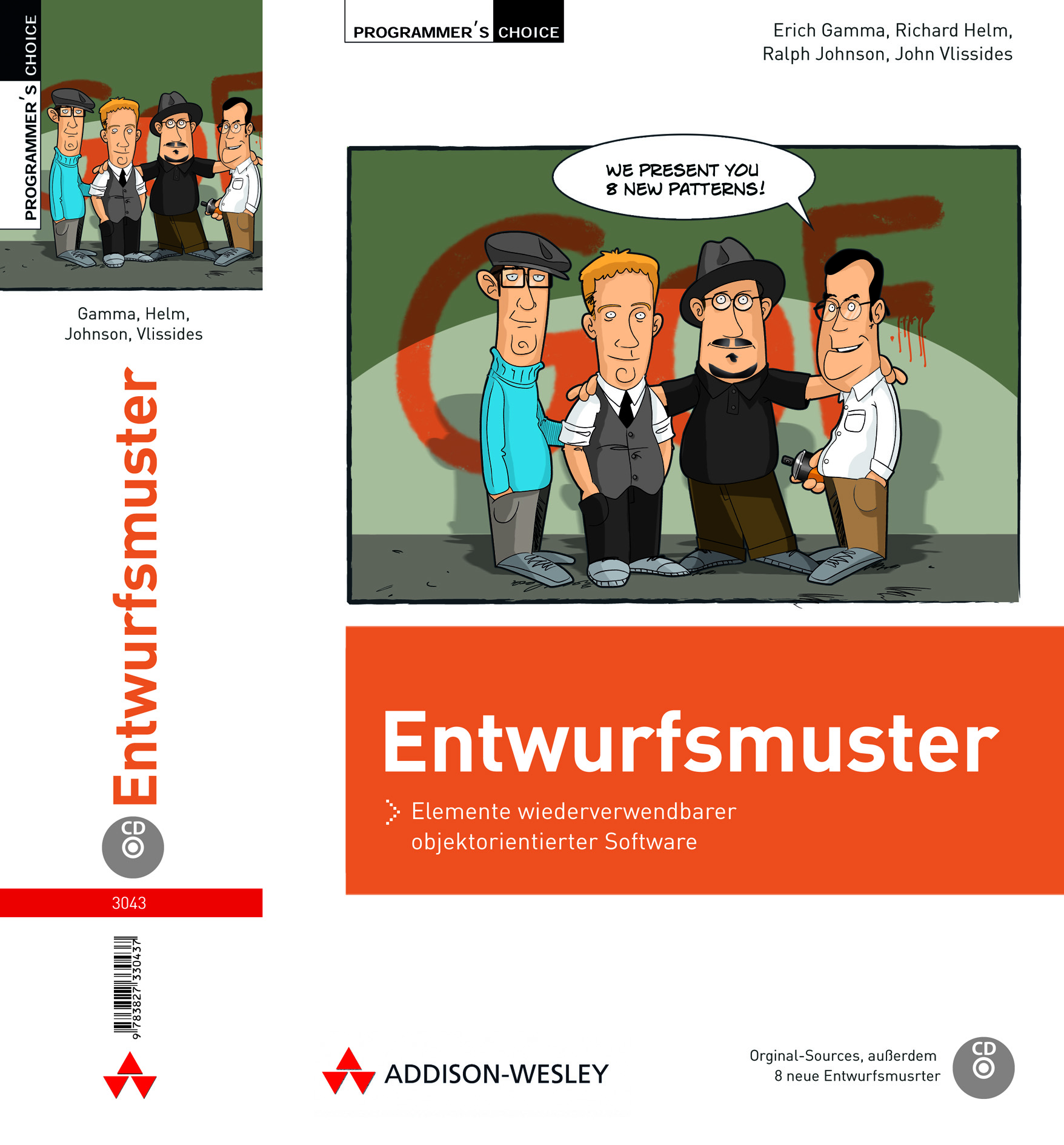 Erster Vorschlag für den Umschlag der neuen Ausgabe
Der tatsächliche Inhalt der Sprechblase in der endgültigen veröffentlichten Fassung ist ein anderer und lautet: "We present you the book that changed software design." Da die Viererbande (Gang-of-four) noch auf ein Nachfolgebuch mit weiteren Mustern hofft, habe ich Addison-Wesley's ursprünglichen Vorschlag entsprechend geändert.
Weiterhin enthält diese Ausgabe nicht nur viele überfällige Schönheitsreparaturen, sondern es enthält auch eine CD mit den Originalquellen wie auch acht neuen Mustern als Beilage. Diese Muster wurden nicht auf den GOF-Stil angepasst sondern verblieben in ihrer englischen Originalform. Sie sind:
Extension Object (Erweiterungsobjekt) von Erich Gamma
Eclipse with Design Patterns von Erich Gamma
Domain-Driven Design Patterns von Eric Evans
Role Object (Rollenobjekt)
Serializer (Serialisierung)
Gestern erhielt ich die Umsatzzahlen der neuen Ausgabe. Im Vergleich zu den vorigen Quartalen hat sich der Verkauf verdoppelt! Ich denke, dies ist ein gutes Zeichen, dass sich die Arbeit gelohnt hat. Sie finden das Buch auf Amazon hier.