On their blogs, Matt Asay and Savio Rodrigues are dis­cussing whether IBM is using open source to dimin­ish com­peti­tor mar­gins. I think it is obvi­ous that IBM does this, most notably with its Linux engage­ment, which is squarely directed against Microsoft (Win­dows). It is what I call a war over the share of customer's wal­let, and open source plays a major role. The graph below shows how it works.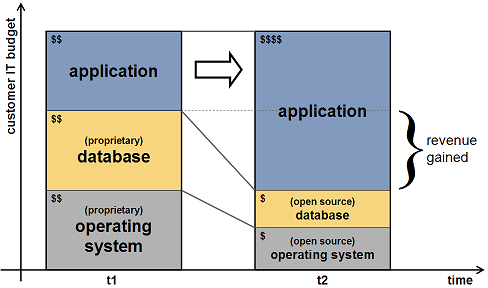 By "share of wal­let" I mean the amount (per­cent­age) of a customer's IT bud­get that a ven­dor can get. Any IT user buys mul­ti­ple dif­fer­ent com­po­nents, for exam­ple, oper­at­ing sys­tem, pro­duc­tiv­ity tools, and busi­ness appli­ca­tions, but ide­ally they only buy one of a given type. They only want one data­base, not many. So each IT ven­dor has two types of com­peti­tors: those that directly com­pete with their prod­ucts, and those that offer ancil­lary prod­ucts. You can take on your direct com­peti­tors through bet­ter sales or ser­vice or pro­duct. For ancil­lary prod­ucts, you need a dif­fer­ent strat­egy.
If you offer a busi­ness appli­ca­tion, data­bases and oper­at­ing sys­tems are ancil­lary (com­ple­men­tary) pro­duct cat­e­gories for you. You aren't offer­ing a pro­duct in that cat­e­gory, so you can't make any money of it. You can, how­ever, reduce the amount of money that these other prod­ucts take out of a customer's IT bud­get (wal­let) and then con­vince the cus­tomer to spend that extra money on your pro­duct. So what you want is to shift money from one com­po­nent in the solu­tion stack to another com­po­nent, specif­i­cally to the one you are offer­ing.
How do you do this? Well, you dimin­ish the mar­gins of the com­po­nents that are ancil­lary to your pro­duct, as Matt right­fully points out. Look at the fig­ure above. If you can make the cus­tomer spend less money on the data­base and oper­at­ing sys­tem, then you can pos­si­bly gain that money for the appli­ca­tion com­po­nent. So, if you are an appli­ca­tion provider, you may want to invest in open source solu­tions for data­base and oper­at­ing sys­tems, if they are cheaper than the lead­ing pro­pri­etary solu­tion (which they typ­i­cally are). This leaves more money on the table for your appli­ca­tion.
I think that's the open secret behind IBM's Linux engage­ment. By ensur­ing that there is a viable com­peti­tor to Win­dows, at least on the server, IBM is keep­ing Microsoft's pric­ing in check, leav­ing more money to be spent on other soft­ware pack­ages. Is there any­thing wrong with it? Not really, it is just com­pet­i­tive strat­egy, to the ben­e­fit of the cus­tomer in this case.
If you want to hear or read more about this, you can turn to an ear­lier arti­cle which dis­cusses the share of wal­let wars or catch me next at Agile 2008, where I will be talk­ing about this too.