This is a professional blog, so I usually leave humorous excursions into my life to my personal blog. Well, unless there is good reason for an exception. Today was such a day. That's because today to much fanfare a new search service, improbably named CUIL was launched. A friend alerted me to the observation that searching CUIL for Dirk Riehle delivers (among other things) the following search result: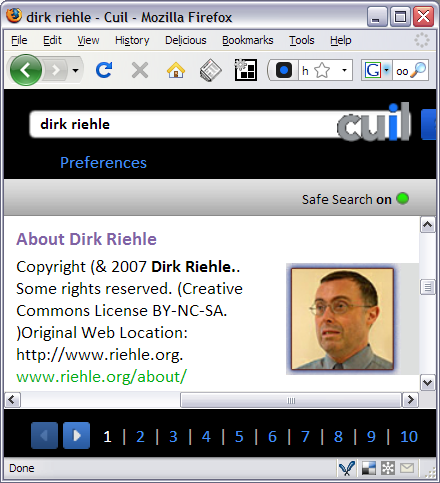 You may wonder who that guy in the screen shot is? It sure is not me. It happens to be Steve Mellor, who I must have seen the last time about 8 years ago. I am honored, of course, to be mistaken for Steve and if only by a machine.
I don't know clue why CUIL connected riehle.org/about with a photo of Steve. However, according to this article, CUIL's performance degrades not by slowing down or crashing but rather by delivering less precise results. So, if more people use CUIL than it can take, the results get less and less accurate. I wonder whether there is value in a search engine that delivers a random page irrespective of what you are searching for?